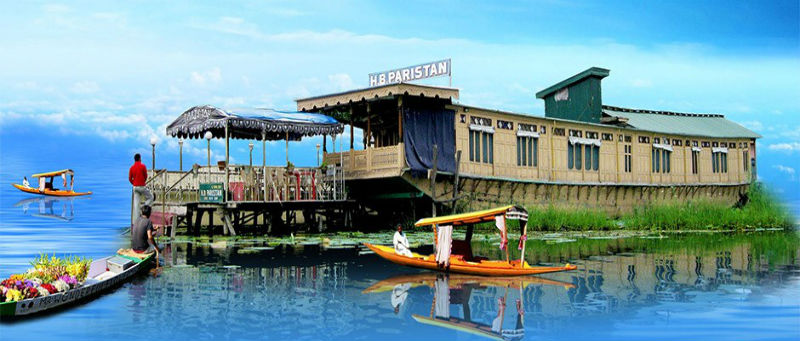 The houseboats are for the most part produced using neighborhood cedar-wood and measure 24–38 meters (79–125 ft) long and 3–6 meters (9.8–20 ft) in width and are evaluated in a comparative manner to lodgings as indicated by level of solace.
A hefty portion of them have extravagantly outfitted rooms, with verandas and a patio to serve as a sun-deck or to serve evening mixed drinks. They are chiefly moored along the western outskirts of the lake, near the lakeside lane in the region of the Dal entryway and on little islands in the lake.
They are tied down exclusively, with interconnecting spans giving access from one pontoon to the next.
The kitchen-watercraft is attached to the primary houseboat, which likewise serves as living arrangement of the pontoon manager and his crew.
Kashmir Houseboat Package (Same Day Trip)
Length of time : 4 Nights/5 Days
Destination : Srinagar Sightseeing (Shikara Ride) Gulmarg , Pahalgam
Day 1 : Srinagar Airport Pickup
Pickup from Srinagar Airport and Transfer to Houseboat. In the wake of checking Houseboat, having Kashmiri Tea, after than go to Sikara Ride in Dal lake and Evening Back to Houseboat.
Supper at Houseboat and Overnight sit tight.
Day 2 : Srinagar - Gulmarg - Srinagar (65 Km) Same Day Trip
After Breakfast Drive to Gulmarg (2440 Meters above Sea level) - it is a standout amongst the most excellent slope station in this world furthermore called glades of bloom. It has world most elevated green and Gulmarg is likewise well known for winter sports skiing and so forth. On landing, Gulmarg registration to your Hotel .Afternoon appreciate guided touring of Gulmarg additionally appreciate Gondola ride (Cable auto, own expense) from Gulmarg to Khilan. furthermore, Evening Back to Houseboat. Supper at Houseboat and Overnight sit tight.
Day 3 : Srinagar - Pahalgam - Srinagar (94 Km) Same Day Trip
After Breakfast drive down to Pahalgam .En-course visit Saffron fields, Anantnag Sulfur Springs. Drive through the green pine backwoods and along the Lidder River. On landing, Pahalgam registration to your Hotel. Appreciate neighborhood touring of Pahalgam and night back to Srinagar Houseboat. Supper at Houseboat and Overnight sit tight.
Day 4 : Srinagar Full Day Sightseeing
After Breakfast entire day touring, for well known Mughal Garden, Nishat and Shalimar Garden, Chasmsahi and Shankrachariya Temple and old city. what's more, night back to houseboat, or shopping.
Supper at Houseboat and Overnight sit tight.
Day 5 : Transfer to Srinagar Airport/Bus Stand
After Breakfast, Check out Houseboat, and Transfer to Airport/Bus Stand.
Visit Include
Srinagar Airport Pickup and Drop
Sikara Ride in Dal Lake
Gulmarg and Pahalgam Sightseeing
Breakfast and Dinner at Houseboat
Srinagar and Gulmarg or Pahalgam Sightseeing via Car
All Include Tax
Visit Doesn't Include
Liquor and Laundry , Phone, Fax, Driver Tip
Link Car (Gulmarg)
Horse Ride (Pahalgam)
Please Fill The Correct Details in The Form Below to Contact Us.