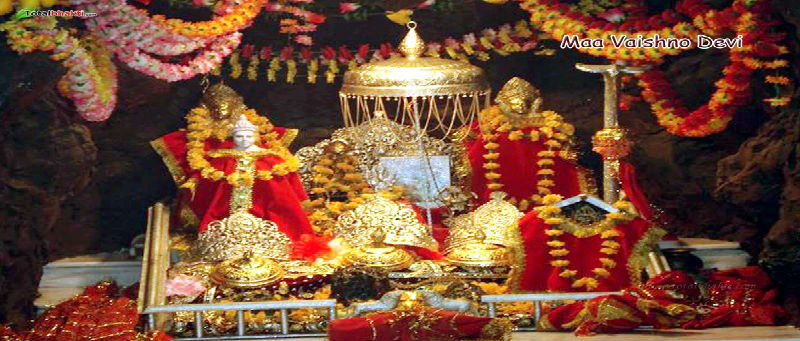 Maa VaishnoDevi Helicopter Package With Kashmir
Encompassed by taking off mountains, rich green valleys and towering pine trees, Kashmir is a sparkling gem in India's crown. Suitably called 'Heaven on Earth', Kashmir's dazzling excellence remains weaves an otherworldly spell on each one who looks at it yet for one moment. This bundle is intended to give you an essence of that enchantment. You will encounter what it is similar to bein the Mughal Gardens when you visit Srinagar. The sensational horse rides and the exciting Gondola rides are two of the most well known things in Gulmarg; you will have the chance to attempt them two! Kashmir does not require any proposal, you know it, everybody knows it; so rush and join in the enjoyment at Kashmir with Mata Vaishno Devi Darshan and Get gift of Moonh Maangi Muradein Poori Karne Wali Mata, which implies, the Mother who satisfies whatever Her kids wish for,
Shri Mata Vaishno Devi Ji lives in a Holy Cave situated in the folds of the three topped mountain named Trikuta (proclaimed as Trikoot). The Holy Cave draws in a huge number of fans each year.
Kashmir Tour Package With Maa VaishnoDevi Helicopter - Itinerary
Day 01: Arrival
Entry Jammu (City of Temples) upon landing meet and moment exchange with help to Katra, check in inn for overnight sit tight.
Day 02: Katra-Vishno Devi-Katra
Leave after breakfast to Mata Vaishno Devi Temple for darshan and return back at night to lodging for overnight stay ( Darshan By Helicopter )
Day 03: Katra-Srinagar (225 kms.)
Leave after B/F from Katra for Srinagar/N stay in Dlx. House Boat/Hotel
Day 04: Srinagar - Local Sightseeing
AM: Boat ride by (Shikara) to investigate the Dal-lake, conduits, backwaters, channels, Floating Gardens, Vegetable\ Gardens, Water Lilies, Lotus, Easily open Mobile Venders, Floating craftsmanship focus and acquired way of life of individuals living inside the Lake since decades. Return back to Dlx. houseboat/inn for lunch. PM: Visit to well known Mughal Gardens Cheshma Shahi, Nishat, Shalimar all things considered known as Mughal Gardens are commitment of the colossal Mughal laid out in the sixteenth century and these fall along the bank of Dal-lake in the heart of Srinagar city and Shankaracharya Temple situated on a hillock , hence giving all encompassing perspective of whole city, along the renowned Dal-lake and waterway Jehlum, enroute going to handloom focus celebrated for generation of Pashmina/Shahtoos shawls and world over figured floor coverings, evening return back to Dlx. Houseboat/inn for supper and overnight sit tight.
Day 05: Srinagar-Sonamarg-Srinagar (174 kms.)
Leave after breakfast for entire day trip (with pack lunch) to Sonamarg 87 kms. From Srinagar in the north-east of Srinagar at an elevation of 3000 mts, above ocean level. The spot offers mind blowing beautiful magnificence (while heading to Sonamarg) thick timberlands, Gigantic Mountains. The spot itself is a prevalent resort for mountain climbers, rock climbers, other than an imperative end while in transit to Kargil (Ladakh)& gives the perfect base to different trekking courses, high mountain lakes, Glaciers and Shri Amarnath Ji Holy give in. Evening return back to Dlx. Houseboat/inn for supper and overnight sit tight.
Day 06: Srinagar –Gulmarg – Srinagar (112 kms.)
Leave after breakfast for entire day journey (with pack lunch) to Gulmarg. Evening .return back to Dlx. Houseboat/lodging for supper and overnight remain.
Day 07: Srinagar-Pahalgam (96 kms.)
Leave after breakfast for entire day journey visit (with pack lunch) to Pahalgam 96 kms. In the south-east of Srinagar arranged at a height of 2130 mts, above ocean level. It is Kashmir's most prevalent resort encompassed by high mountains, thick woods, high mountain lakes, it additionally offers 9 opening green, skiing, horse trails, Angling (rainbow and Brown trout) horse freeing Trekking (both hard and delicate) and different spots of enthusiasm for and around like Aru valley, Lidderwat valley, Kolhai Glacier, Shesh Nag, Chandanwari (course to Amarnath ji heavenly give in ), Baisam and Mamil celebrated for ninth old (Shiva Temple ) in this manner, happens to be a favored spot among residential visitors, check in Hotel and toward the evening investigate the surroundings with grand view all around and return back to Hotel for supper and overnight sit tight.
Day 08: Pahalgam-Jammu (305 kms.)
Pahalgam-Jammu (Departure exchange to Air/Bus/Train terminal at Jammu to get onto the Flight/Bus/Train for forward destination.
With Maa favoring. Bundle Including
Convenience In Hotel 7 Nights
02 Nights Hotel Chirag International or comparative,
Katra 01 Night Hotel Mountview or comparative,
Pahalgam 02 Nights Hotel Gulmarg Resort or comparative,
Gulmarg 02 Nights Deluxe House Boat,
Srinagar To and fro Shikara intersections while remaining focused Boat
All Transfer by A/C Cab From Jammu to Jammu.
Retuern Helicopter Tickets.Optional
Katra- - Sanjhichat- - Katra
Yatra Passes/Vip Darshan With Helicopter
All Days Local Sight Seeing by Non Ac/Ac Car
Breakfast.
Toll charge, Parking and Driver remittances.
Mata Vaishno Devi Helicopter Package with Kashmir Price Starts :-
Standard Class Package. : On Request/ - Per Person (2* Hotels)
Select Class Package. : On Request/ - Per Person (3* Hotels)
Business Class Package. : On Request/Per Person (4*/5* Hotels)
Please Fill The Correct Details in The Form Below to Contact Us.